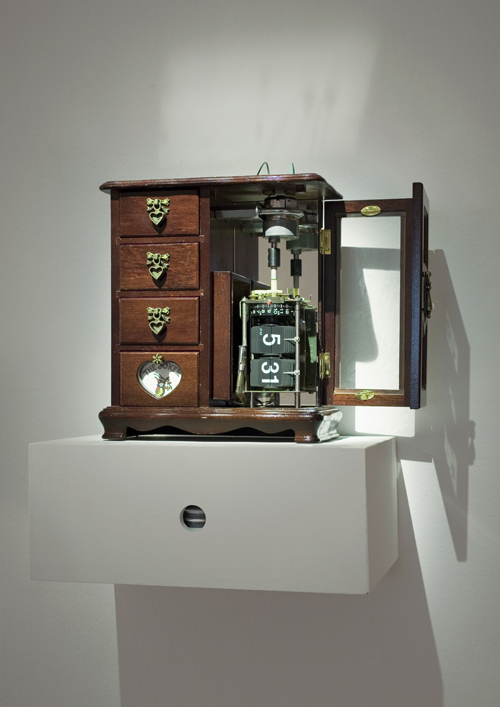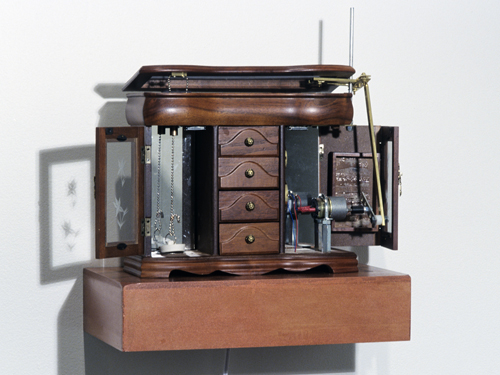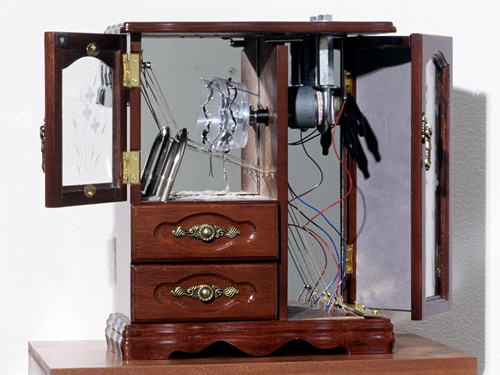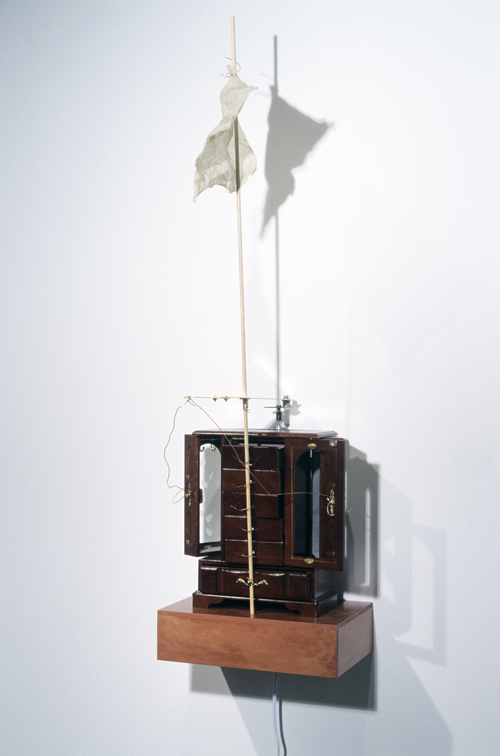 Caravansérail
2004-2005
sculpture sonore avec automatisation
coffret à bijoux, bois, moteurs, acier, minuterie, détecteur de mouvement
dimension variable
collection : Giverny Capitale (1/4 – Horloge)
documentation: – photo & vidéo©Diane Landry 
2013
Diane Landry: by every wind that blows, commissaire: Raphaela Platow & Steven Matijcio, Contemporary Arts Center, Lois & Richard Rosenthal Center for Contemporary Art, Cincinnati (Ohio, É.-U.).
2010
The Defibrillators, commissaire : Eve-Lyne Beaudry, Mount Saint Vincent University Art Gallery, Halifax (Nouvelle-Écosse, Canada).
2009
The Defibrillators, commissaire : Eve-Lyne Beaudry, Agnes Etherington Art Centre, Kingston (Ontario, Canada); Esplanade Art Gallery, Medicine Hat (Alberta, Canada); et Robert McLaughlin Gallery, Oshawa (Ontario, Canada).
2008
Les défibrillateurs, commissaire : Eve-Lyne Beaudry, Musée d'art de Joliette, Joliette (Québec, Canada).
2005
The Murphy and Cadogan Fellowships Award Exhibition, San Francisco Arts Commission Gallery, San Francisco (Californie, É.-U.).
We Are Not Friends, Thomas Welton Stanford Art Gallery, Stanford (Californie, É.-U.).
« Le « caravansérail » est historiquement une sorte d'hôtel complexe, à plusieurs chambres, où les caravanes s'arrêtent pour la nuit. S'intéressant à ce point de rencontre de plus en plus rare, mais néanmoins fascinant, Landry imagine un lieu bigarré et animé par des gens différents dont les chemins se croisent. Par ailleurs, elle voit dans le coffret à bijoux classique un caravansérail miniature : un microcosme aux nombreuses couleurs, textures et espèces réunies par le temps et les circonstances. Ce coffret renferme habituellement des trésors de toutes sortes et provenances – certains précieux, d'autres purement sentimentaux – qui se mélangent, dansent et produisent ensemble le collage de la mémoire. Mais qu'est-ce qu'on emporte avec soi, quel est le réel trésor? Landry réfléchit à cette question au moyen d'un coffret à bijoux mécanisé qui, quand on s'en approche, tourne rapidement au rythme de l'affichage numérique d'une horloge. Ce coffret, plutôt que de contenir de l'or, de l'argent ou des joyaux, sous-entend que les vrais objets à chérir et à protéger sont les marqueurs du temps. » Steven Matijcio, commissaire.


Fiche technique de démontage | format PDF