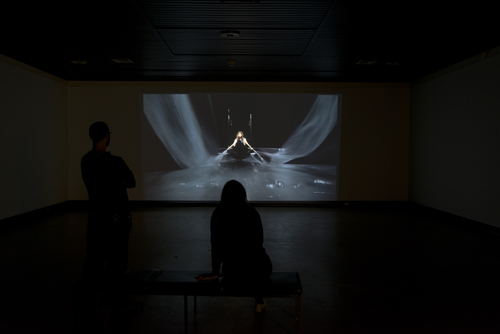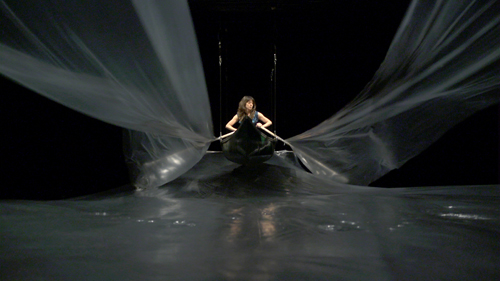 Icebreaker (video)
2013
video: edition of 5
performance-video for projection HD or monitor
video loop: 9 min 50 s
produced during a residency with Les Productions Recto-Verso, Mois Multi 14, Quebec City
Collection Méduse (1/5)
documentation : – vidéo©Ricardo Savard
2023
Celestial Mechanics, youth exhibition, Curators : Marie J. Jean et Claudine Roger, VOX,
Montreal (Quebec, Canada).
2018
Collumina, MAKK Museum for Applied Arts Cologne, Cologne (Allemagne). 
2017
During the event PHOS, Espace F, Matane (Quebec, Canada).
Projections feu de forêt during the event : Les Brunantes, curator : Catherine-Eve Gadoury et Jeanne Couture, Parc naturel régional de Portneuf, Saint-Alban (Québec, Canada).
Équilibre, curator: Claire Lefebvre
, Espace création + exposition | Collège Lionel-Groulx, 

Sainte-Thérèse (Quebec, Canada).
Sparrow Night, curator : Cassandra Getty, Museum London, London (Ontario, Canada).
2016
Maison de la culture Notre-Dame-de-Grâce, Montreal (Quebec, Canada).
Galerie Barbara Edwards Contemporary, Toronto (Ontario, Canada). 
Gallery Barbara Edwards Contemporary, Calgary (Alberta, Canada).
2015
Papier 15 - video program, complexe de Gaspé, Montreal (Quebec, Canada).
2014
Mises à l'épreuve - video program, curators : Chantal duPont et Élaine Frigon, 4e édition de Chantier libre, Les Ateliers Jean Brillant, Montreal (Québec, Canada).
2013
Ombres et lumières, curator: Nisk Imbeault, Galerie d'art Louise et Reuben-Cohen, Moncton (New Brunswick, Canada).
Auprès du souffle, group exhibition, curator: Sébastien Hudon, presented by La Bande Vidéo, La maison de la Culture de Côte-des-Neiges, Montreal (Quebec, Canada).
Diane Landry: by every wind that blows, Curator: Raphaela Platow & Steven Matijcio, Contemporary Arts Center, Lois & Richard Rosenthal Center for Contemporary Art, Cincinnati (Ohio, USA).
The Cadence of All Things, Cameron Art Museum, Wilmington (North Carolina, USA).
 "With a reinforced hull, pointed bow and the power to push through ice-crusted water, an "icebreaker" is a monstrous boat specially designed to go where most boats should not. As they carve though ice caps, glaciers and terrain unfit for human life, these boats simultaneously embody the ingenuity and intrepidness of mankind, as well as our arrogance. Cutting a path through environments that resist occupation, the icebreaker embodies the scars carved in the earth through exploration, pollution and economics.
In this performance video Landry considers the new frontiers industry has brought to bear: becoming an ambivalent avatar as she paddles a canoe through mysterious black space. Like a winged messenger with an abstract telegraph, she turns her oars through billowing sheets of plastic – sweeping what become oversized brushes through synthetic waters. Her actions are simultaneously insistent and ineffective. Caught in the loop, she moves continuously without progressing – rocking back and forth through rituals of labor, travel and existence. In an urban jungle where concrete is king, and water is held in plastic, Landry thus floats in meditative limbo. Movement is her mantra, as destination is deferred." Steven Matijcio, curator.