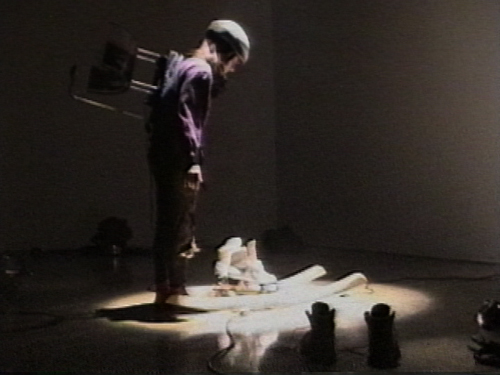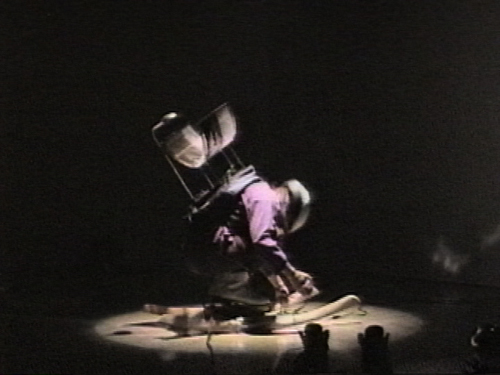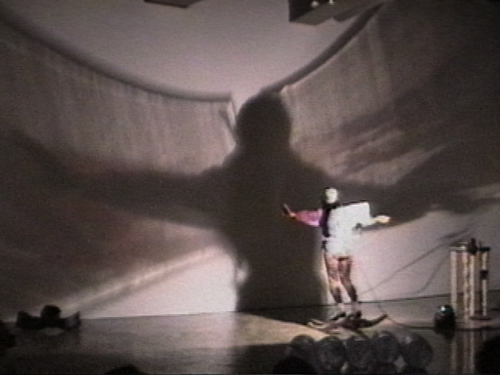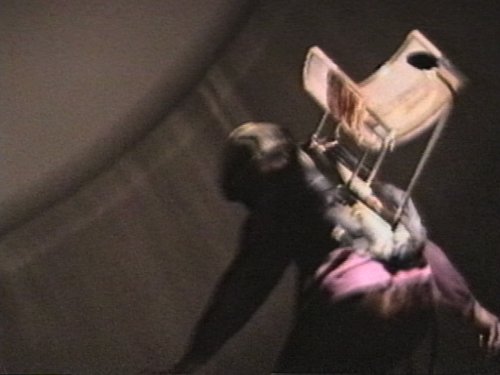 Skate to Stay
1993-97
performance
duration: ~13min
documentation: – photo & video camera©Nicole Catellier, Boris Firquet – video editing©Diane Landry 
1997
3e Symposium en arts visuels de l'Abitibi-Témiscamingue – Vingt mille lieues/lieux sur l'esker, Amos (Quebec, Canada).
1996
Freshwater, Skate to Stay and Kettle-violin, Sound Symposium VIII, LSPU Hall, St. John's (Nova Scotia, Canada).
Patin sur place, Espace Virtuel, Chicoutimi (Quebec, Canada).
 1995
Patin sur place, Vitrines, histoires d'étalage, Pointe-à-Callière, Musée d'archéologie et d'histoire de Montréal, Montreal (Quebec, Canada).
Eau vive and Patin sur place, Obscure, Quebec City (Quebec, Canada).
 1994
Eau douce and Patin sur place, Mois de la performance, La Centrale Galerie Powerhouse, Montreal (Quebec, Canada).
 1993
Skate to Stay, II Festival del performance ciudad de México, X'TeReSa Arte Alternativo, Mexico City (Mexico).
Skate to Stay, East/West Action/Performance Festival, co-organized by Le Lieu and presented at Pitt Gallery, Vancouver (British Columbia, Canada).
Patin sur place, centre Vu, Quebec City (Quebec, Canada).
 "The most visually powerful and emotionnally succint performance I saw was Landry's. Wearing a pair of ice skates mounted on joined wooden rockers (a symbolic, constraining device into which she had to lace herself at the beginning of the performance), dark clothes and a bicycle helmet, with a peculiar contraption strapped to her back, Landry enacted the span of human life. In the darkened room, the contraption—curved plexiglass and an electric lamp—cast an eloquent shadow on to the wall in front of her: a large-headed human form with luminescent wings. As with a child learning to walk, Landry graduated from tiny, unsteady rocking movements to increasingly long and confident motions, rocking more and more deeply, casting longer and bolder shadows on the walls. At her fullest trajectory, she was making grand, sweeping movements with her body, arching her back and stretching out her arms. Then, gradually, the light dimmed and the movements diminished: Landry slouched into old age, then curled into a fetal position. The light went out, Landry rocked a little more, then was still. Wow. Without words, this artist had created a work of stunning purity and compelling universality."
Robin Laurence, "Stranger in a Strange Land of Performance" (excerpt), The Vancouver Sun, October 16, 1993.