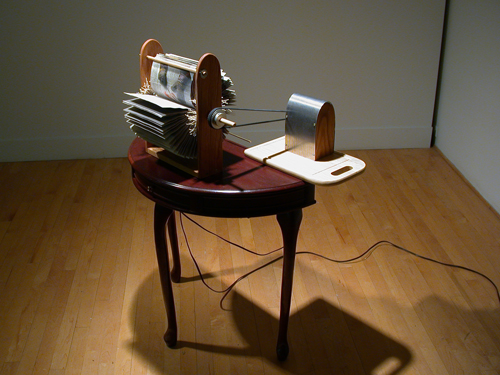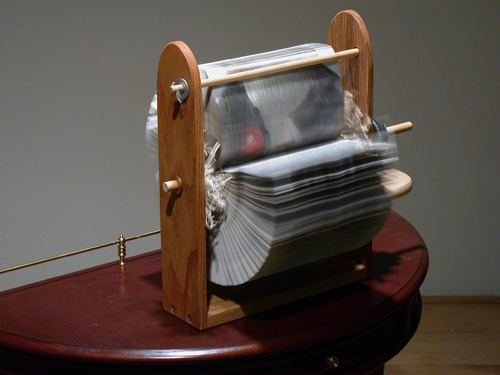 Privilèges
2006
folioscope avec automatisation
dictionnaire, photos transférées, moteur, table, bois, détecteur de mouvement
145 x 80 x 56 cm
collection Pascal Fouché (première version)
documentation : – photo & vidéo©Diane Landry 
2021
Action & Structures, Carl Solway Gallery, Cincinnati (Ohio, États-Unis).
2013
The Cadence of All Things, Cameron Art Museum, Wilmington (Caroline du Nord, É.-U.).
Quand l'art se prête au jeu, commissaire: Viviane Paradis, Maison Hamel-Bruneau, Québec (Québec, Canada).
2012
17th ifva Festival – art.ware, commissaire : Ip Yuk-Yiu, Hong Kong Arts Centre, Hong Kong (Chine).
2007
Sound & Motion, SolwayJones, Los Angeles (Californie, É.-U.).
2006
MFA Thesis Exhibition, commissaire : Gail Wight, Thomas Welton Stanford Art Gallery, Stanford (Californie, É.-U.).
Scope Art Fair, Art Basel Miami Beach, stand de SolwayJones, Miami Beach Convention Center, Miami (Floride, É.-U.).
Cream, from the Top, Arts Benicia Center Gallery, Benicia (Californie, É.-U.).
Je ne trouve pas ma montre, elle ne s'est pourtant pas envolée, centre VU, Québec (Québec, Canada).
 J'ai réalisé ce folioscope automatisé en utilisant un dictionnaire dans son intégrité. Le nombre de pages de ce livre universel a déterminé le nombre d'images pour l'animation. Les photos ont été transférées directement sur les feuilles du livre et on peut voir à la fois les mots du dictionnaire et l'image transférée. J'ai pris ces clichés de moi-même découpant une pomme avec des gants de travail. L'action à lire est celle d'une offrande d'un quartier de pomme à la personne qui se penche sur le dictionnaire en mouvement. Ce projet se veut une réflexion sur le privilège que l'on a d'avoir accès à l'éducation qui nous permettra très probablement de remplir notre assiette. Ce privilège autrefois réservé aux familles royales ou au clergé demeure encore aujourd'hui un privilège social lié aux frontières politiques.