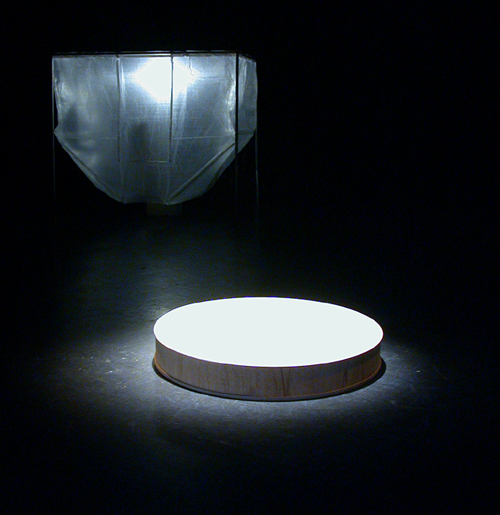 Tribute to Gilles in Corps étranger with Paul Demarinis and Émile Morin
2003
motorized installation and video projection
dimensions variable
created during a residency at and coproduced by Avatar, Quebec City
photo and video documentary: ©Diane Landry 
2003
Corps étranger, with Paul Demarinis and Émile Morin, Manif d'art 2, Studio d'essai, Méduse, Production Avatar, Quebec City (Quebec, Canada).
"The organism imagined by Émile Morin is bicephalous and decentered, originating with Paul Demarinis in San Francisco and Diane Landry in Quebec City. Through the use of a webcam, each artist observes the other at work. Two discourses develop and intertwine. A new territory is created. Corps étranger becomes a body composed of two complex systems. In December 2001, Émile Morin, Paul Demarinis and Diane Landry defined the rules governing their participation. For the artists, it meant creating individual systems that remained self-coherent and identifiable upon insertion into one another. For Émile Morin, it was a matter of endorsing the role of game master and intervening in exchanges between the artists."
Corps étranger. Processus de création à pôles multiples (excerpt), Manif d'art 2 brochure, Quebec City, 2003.