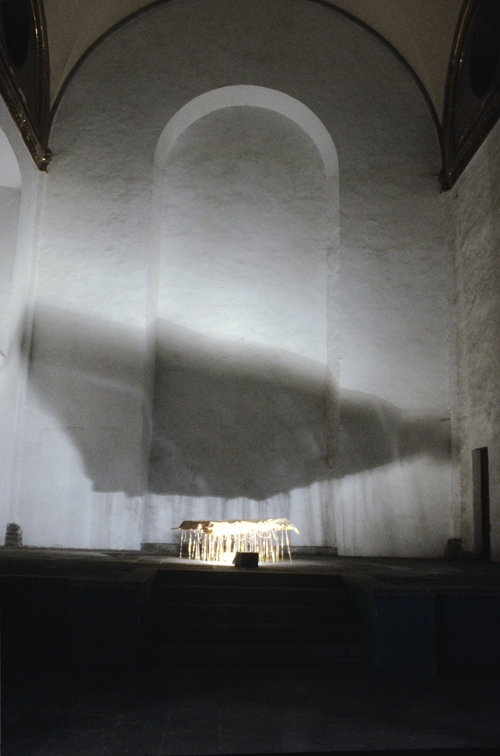 Tormented Tables
1999
motorized sound sculpture
record players, plastic figures, copper, lead pencils,
brown wrapping paper, incandescent lighting, DMX controller
75.5 x 166 x 156 cm
documentation: – photo©Claude Bélanger, Paul Litherland, Diane Landry – video©Diane Landry 
2018
Conjuguer La traçabilité ORANGE 2018 | 6th edition, Expression | Centre d'exposition de Saint-Hyacinthe, Curators : Twins Isabelle and Marie-Ève Charron, Saint-Hyacinthe (Quebec, Canada).
2008
Les défibrillateurs, curator: Eve-Lyne Beaudry, Musée d'art de Joliette, Joliette (Quebec, Canada).
2002
"Pitch" – Mutating Turntables, curator: Ive Stevenheydens, Argos Festival 2002, Argos, Brussels (Belgium).
Machines festives, curator: Paméla Landry, L'Oeil de Poisson, Quebec City (Quebec, Canada).
2001
Latinos del Norte, organized by Inter/Le Lieu and presented at X'TeReSa, Mexico City (Mexico).
2000
Sound Symposium X, Anna Templeton Centre, St. John's (Newfoundland, Canada).
1999
Machines festives, curator: Paméla Landry, La Centrale Galerie Powerhouse, Montreal (Quebec, Canada).
 "Tormented Tables extends the acoustic, perhaps narrative, potential of the record players' circularity, by re-using the merry-go-round idea, but with a certain critical irony. On the top platforms of the 20 'turntables' (the play on words given by the common expression referring to the record players is essential to grasp the current irony in the title), red plastic animal figures are arranged and, dragged along by the rotation, they transmit vibrations into the common brown wrapping paper that covers the structure. . . . The paper vibration and the peculiar cracking we hear urge us to look under the 'table', to discover a merry-go-round peopled by slaughterhouse animals. . . . On the same principle as in The Clandestine Sedentaries, the 'turntables', which compose most of the structure, are supported by 80 copper rods lying on the ground on lead pencils. Fragile because it is supported in a precarious manner, the whole sculpture vibrates and quivers as if swept along by its own movement, animated by the quaking of turning animals, and making the paper vibrate and crackle. As the title suggests, this world not only turns like a 'round', but, as it turns, it torments as well."
Marie Fraser, Les Sédentaires clandestins (excerpt), catalogue, Musée national des beaux-arts du Québec, Quebec City, 2001.