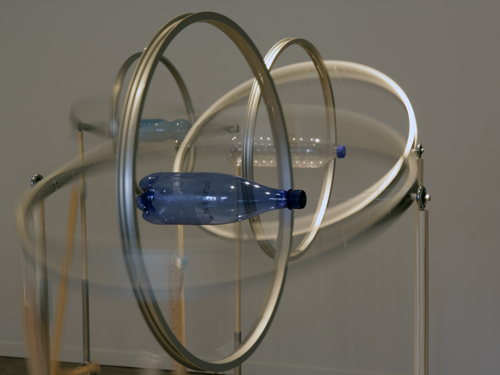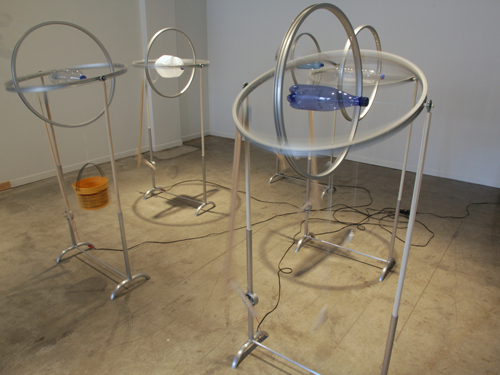 The Umpteenth Continent
2014
motorized installation
rims, chosen objects, wood, aluminum, motors, ball bearing
5 x ( 157 x 90 x 65 cm)
2018
Trajectory of the senses, Biennale internationale de sculpture contemporaine, Centre d'exposition Raymond-Lasnier, Trois-Rivières (Quebec, Canada).
2016
Maison de la culture Notre-Dame-de-Grâce, Montreal (Quebec, Canada).
2014

L'Échappée, Galerie Michel Guimont, Québec (Québec, Canada).
A Tour of The Umpteenth Continent
 To experience the work of Diane Landry is to enter a fascinating world of light,movement, colour and sound. Yet her pieces are composed of very simple materials, many of them salvaged or found objects like plastic bottles, strainers, bicycle rims, old turntables and umbrellas. The artist uses this jumble of items to assemble fascinating sculptures and installations that arouse wonder and surprise.This ability to enchant explains the skill of Diane Landry. Using mundane objects from everyday life, she develops a total sensory experience, a feast for the eyes, ears and heart. In her generous and teeming universe, commonplace household strainers become supernatural frameworks for light projections, plastic utensils assemble themselves into a fisherman's net, umbrellas unfurl in balletic movements, salad spinners become devices for viewing moving images and plastic tarps are transformed into ocean waves. However, these reclaimed objects are only a premise, a springboard for cerebral projection into the imaginary. They serve as a pretext for a long process of "engineering" that relies on extensive knowledge of automation and motion dynamics and the intricate gears of machines and clockworks. This is certainly the case for The Umpteenth Continent.
 The basic materials used to create this installation are, once again, disarmingly simple : bicycle rims, plastic bottles, wooden rulers, brushes, plastic pails, and so on. Five metal frames support two rims each, at the centre of which is wire stretched horizontally to support a bottle that resembles a floting core. A large wooden ruler connects the rims to a small motor that keeps them in continuous motion. An everyday object hangs from a rope, suspended from each of the balancing circles. The measured weight of the various objects is essential to generating the rocking movement of the quasi-spheres. The mass reacts to the swinging and creates perpetual motion in the hypnoctic manner of a clock pendulum. Viewed as a whole, the refined mechanisms of the "umpteenth continent" suggest the image of an antique globe perched on a wooden stand. But although the overall aesthetics of this installation leave us with enchanting and contemplative impressions, we are left to wonder if this other continent is not to be likened to those huge and alarming "floting islands" that have been formed in the Pacific Ocean by the fragments of plastic waste discarded by humans.
(text publised in Biotope Art+environment > Sustainable Architecture, Division de la culture, Arrondissement de Côte-des-Neiges-Notre-Dame-de-Grâce, Montreal, 2016.)