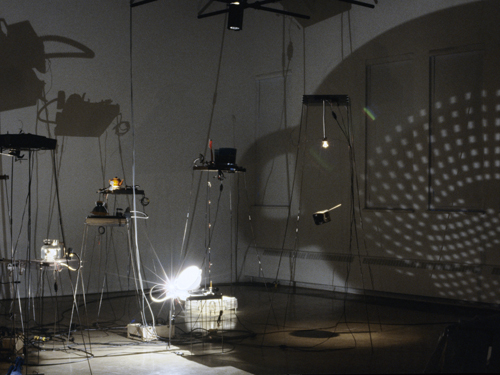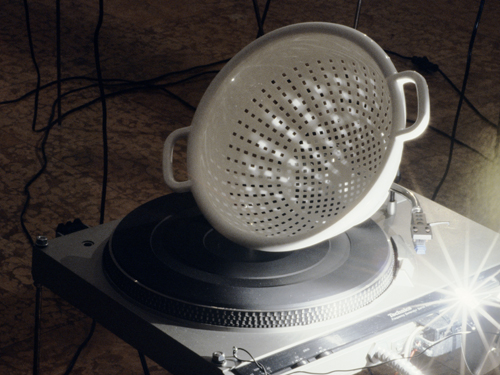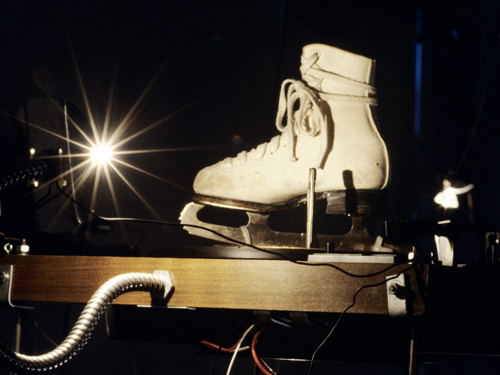 The Lighthouse
1996
motorized installation
record players, selected objects, steel, halogen lighting, MIDI controller, computer
250 x 700 x 460 cm
projection: 4 walls (dimensions variable)
created in collaboration with Obscure's Laboratoire de recherche et de création en informatique appliqué aux arts,
Quebec City
documentation: – photo©Diane Landry – video camera©Boris Firquet – video editing©Diane Landry 
2023
Transparent Foretellings, retrospective exhibition, Curators : Marie J. Jean et Claudine Roger,
VOX, Montreal (Quebec, Canada).
2013
Bleu Nuit, 2ème Biennale d'art contemporain, Hôtel de Ville, Sotteville-lès-Rouen (France).
2001
Flying School and The Lighthouse, Mobius, Boston (Massachusetts, USA).
2000
Le Phare, Langage Plus, Alma (Quebec, Canada).
1999
Humeur à patiner and L'Étreinte atroce, Musée d'art contemporain des Laurentides, Saint-Jérôme (Quebec, Canada).
Humeur à patiner and L'Étreinte atroce, Centre d'exposition d'Amos, Amos (Quebec, Canada).
Humeur à patiner, Artcite Inc., Windsor (Ontario, Canada).
1998
Humeur à patiner and L'Étreinte atroce, curator: Françoise Balboni, Centre d'Art Contemporain Passages, Troyes (France).
Structures du quotidien, curator: Carl Johnson, Musée régional de Rimouski, Rimouski (Quebec, Canada).
1996
Le Phare, La Parallaxe, organized by Obscure and presented at Galerie im Andechshof, TRANSI©T, Innsbruck (Austria).
Humeur à patiner, Obscure, Quebec City (Quebec, Canada).
The idea of collecting record players came to me when they were being replaced by CD players. I found them on the curb on garbage collecting days. Nearly fifteen record players are placed at varying heights on precarious legs. Each has its own lighting and complement from everyday life. Using MIDI controllers, the record players spin in sequence, one or more at a time, according to a composition I alter for each venue. I create a sequence of sixteen different tableaux appearing one after the other over a period of nearly twenty minutes. This strange, somewhat chaotic-looking mass comes to life and creates large projections in silhouette. These moving shadows are cast on the walls with varying intensities and speeds. They are very large and occupy the space in an imposing manner. The Lighthouse is a dance of utilitarian objects set in lyrical confrontation, or a multitude of small enigmatic carousels made out of everyday objects.