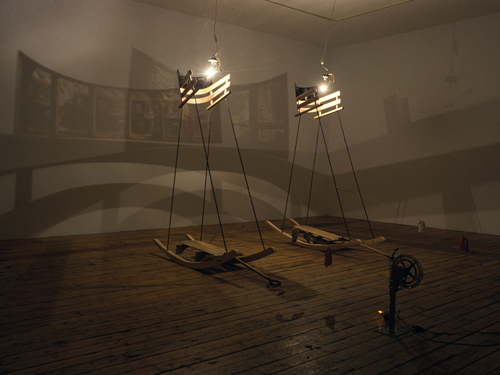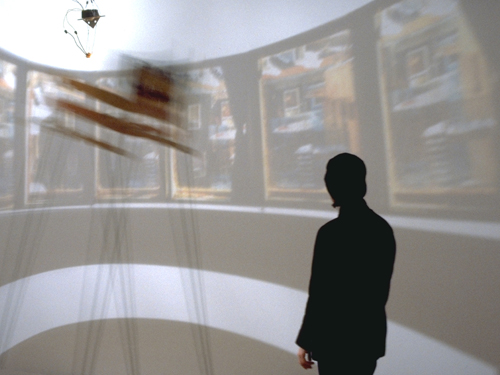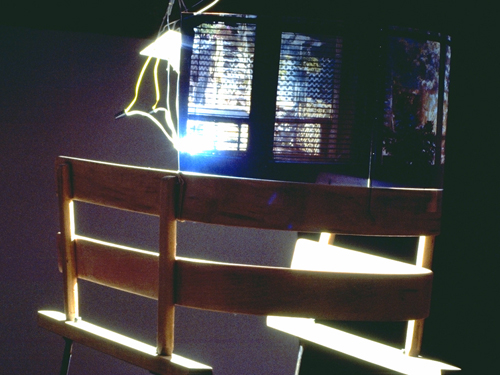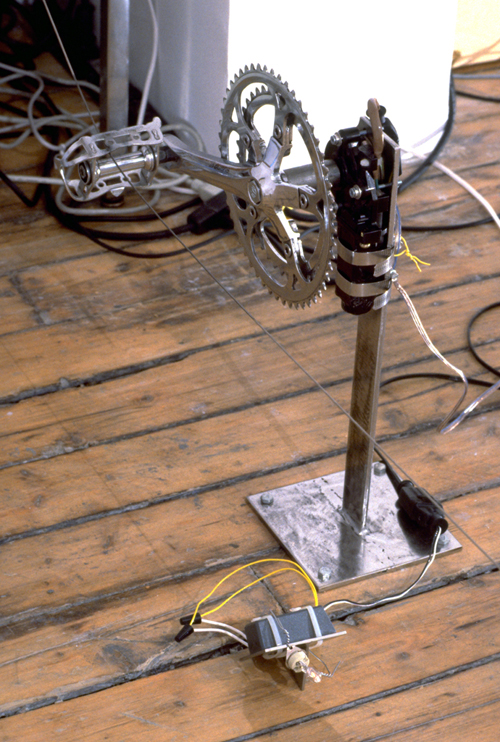 The Atrocious Embrace
1997
motorized installation
child sleigh, bicycle pedal and gear, wood, steel, duraclear, halogen lighting, MIDI controller, computer
2 objects: 210 x 50 x 170 cm (overall)
dimensions of shadows projected on walls variable
documentation: – photo©Diane Landry – video camera©Martin LeBlanc – video editing©Diane Landry 
2013
The Cadence of All Things, Cameron Art Museum, Wilmington (North Carolina, USA).
2012
Correspondances, curator: Nicole Gingras, Manif d'art 6 – Machines : Les formes du mouvement, Musée de l'Amérique française, Quebec City (Quebec, Canada).
1999
Humeur à patiner and L'Étreinte atroce, Musée d'art contemporain des Laurentides, Saint-Jérôme (Quebec, Canada).
Humeur à patiner and L'Étreinte atroce, Centre d'exposition d'Amos, Amos (Quebec, Canada).
1998
Humeur à patiner and L'Étreinte atroce, curator: Françoise Balboni, Centre d'Art Contemporain Passages, Troyes (France).
L'Étreinte atroce, La Centrale Galerie Powerhouse, Montreal (Quebec, Canada).
L'Étreinte atroce, Là Galerie, Trois-Rivières (Quebec, Canada).
1997
L'Étreinte atroce, Trois fois 3 paysages, organized by Le centre VU and La Chambre Blanche, Quebec City (Quebec, Canada).
Two chairs/sculptures suggest both a rocking chair and a sleigh. They are the same size. Instead of a support where the person usually sits is a series of small photographs on a transparency. Each of these comes from a collection of photographs taken from inside windows, looking towards the outside. Moreover, each rocking chair has its own small motor that moves it independently. With a MIDI controller system, I can create a sequence enabling me to rock one chair at a time or both at the same time, or I can make movements overlap each other. I can do the same thing with the lighting system. A certain rhythm, as well as pauses for moving the sculptures, is provided for according to each venue. The result is a structure in the form of a rocking chair-sleigh with photographs, which swings, so the giant photographic projection goes up and down from the floor to the wall, thus creating a kind of projected seesaw. The effect of this movement is that at certain moments the image is focused, and then it is not, leaving only a colourful impression. The wood and steel objects produce a strange creaking sound that increases the mystery of this hybrid self-moving piece of furniture.