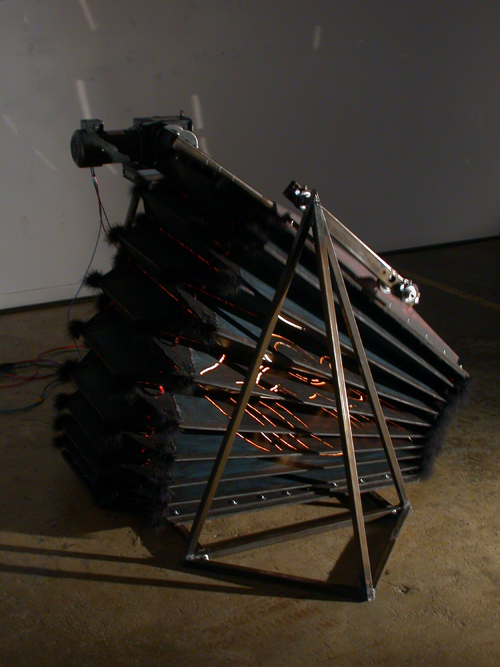 Sympathy for the Devil
2003
motorized sound installation
wood, fabric, feather, steel, motor, halogen lighting, MIDI controler, computer
130 x 190 cm, height variable: between 115 and 160 cm
created during a residency at and coproduced by Est-Nord-Est, Saint-Jean-Port-Joli
documentation: – photo & video©Diane Landry 
2004
Biennale nationale de sculpture contemporaine, curator: Gaston St-Pierre, Galerie d'art du Parc, Trois-Rivières (Quebec, Canada).
2003
Accordéons, Carrefour mondial de l'accordéon, Production du Centre Est-Nord-Est, Centre des migrations, Montmagny (Quebec, Canada).
This somewhat monstrous, curious object is animated by halting expansions, hesitations, abrupt movements and out-of-breath moments of rest, like an uncomfortable body that curls up but which, incapable of rest, stretches and yawns. The unpredictable course of this deeply-inspired movement eludes our understanding. The awaited expiration expels an invisible breath of silent, muffled air. The distressing sound accompanying this strange corset comes instead from the object's creaking and heightened tension, from the straining of the motor. The movement of the air exists in a state of displacement and is not expressed in a sound mood the way one might expect. For what characterises these vigorous bellows, trying to breathe, is exertion. The arrhythmia and asthma given off by this work affect our own breathing.