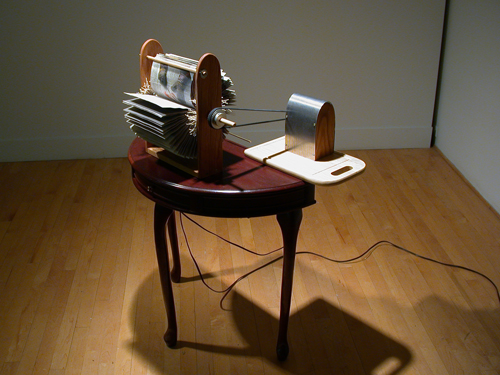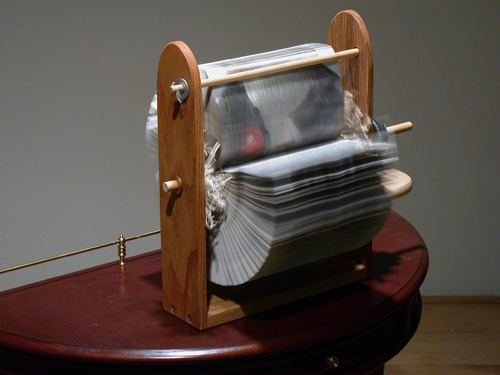 Privileges
2006
motorized flip-book
dictionary, photo transfers, motor, table, wood, motion sensor
145 x 80 x 56 cm
documentation: – photo & video©Diane Landry
collection: Pascal Fouché (first version) 
2021
Action & Structures, Carl Solway Gallery, Cincinnati (Ohio, USA).
2013
The Cadence of All Things, Cameron Art Museum, Wilmington (North Carolina, USA).
Quand l'art se prête au jeu, curator: Viviane Paradis, Maison Hamel-Bruneau, Quebec City (Quebec, Canada).
2012
17th ifva Festival – art.ware, curator: Ip Yuk-Yiu, Hong Kong Arts Centre, Hong Kong (China).
2007
Sound & Motion, SolwayJones, Los Angeles (California, USA).
2006
MFA Thesis Exhibition, curator: Gail Wight, Thomas Welton Stanford Art Gallery, Stanford (California, USA).
Scope Art Fair, Art Basel Miami Beach, SolwayJones booth, Miami Beach Convention Center, Miami (Florida, USA).
Cream, from the Top, Arts Benicia Center Gallery, Benicia (California, USA).
Je ne trouve pas ma montre, elle ne s'est pourtant pas envolée, centre VU, Quebec City (Quebec, Canada).
I made this motorized flip-book using an entire dictionary. The number of pages in this universal book determined the number of frames in the animation. The photos were transferred directly onto the pages of the book, and it is possible to see both the transferred image and the words in the dictionary. I took shots of myself cutting an apple while wearing work gloves. The action to be read is the offering of a piece of apple to the person inspecting the dictionary in motion. This project is intended to be a reflection on our privileged access to education, which will in all likelihood put food on our table. This privilege, in former times reserved for royal families or the clergy, remains today a social privilege connected to political boundaries.