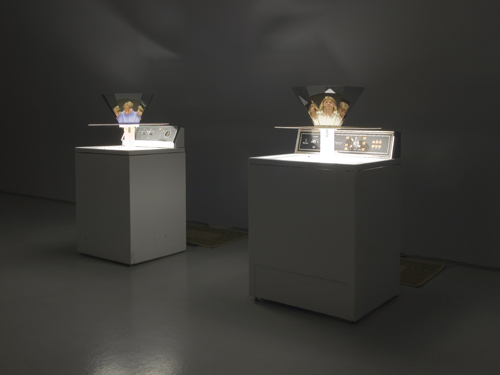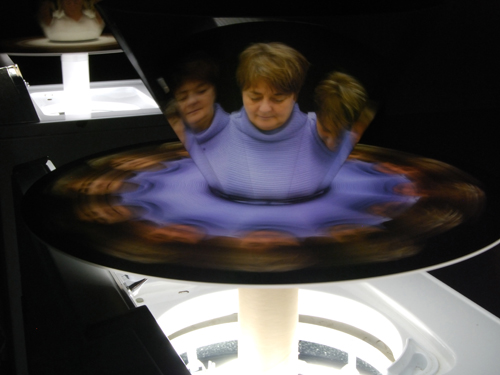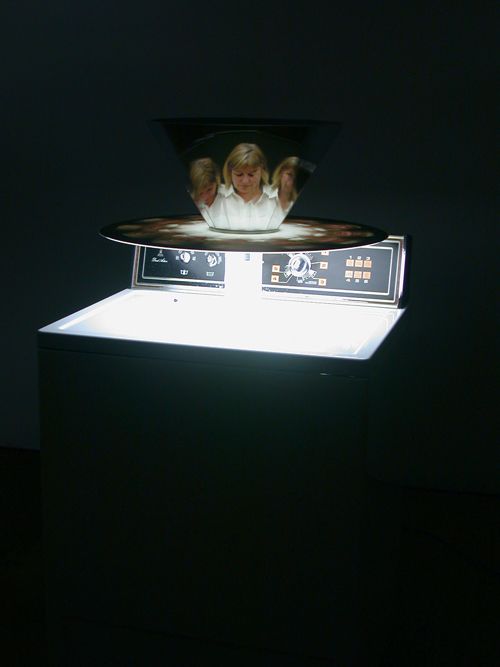 Madonnas
2007-08
motorized sound installation
washing machines, photographs cold-mounted on acrylic, mirrors, fluorescent lighting, motion sensor with electronic timeswitch
3 objects: 138 x 68 x 66 cm (overall)
documentation: – photo & video©Diane Landry
 2013
The Cadence of All Things, Cameron Art Museum, Wilmington (North Carolina, USA).
2010
Photo Environment, curator: Andrea Harris, Frank M. Doyle Arts Pavilion, Costa Mesa (California, USA).
The Defibrillators, curator: Eve-Lyne Beaudry, Mount Saint Vincent University Art Gallery, Halifax (Nova Scotia, Canada).
2009
The Defibrillators, curator: Eve-Lyne Beaudry
Agnes Etherington Art Centre, Kingston (Ontario, Canada)
Robert McLaughlin Gallery, Oshawa (Ontario, Canada).
Awashawavw, curator: Christof Migone, Blackwood Gallery, Mississauga (Ontario, Canada).
2008
Les défibrillateurs, curator: Eve-Lyne Beaudry, Musée d'art de Joliette, Joliette (Quebec, Canada).
Madones, Galerie du Nouvel-Ontario, Sudbury (Ontario, Canada).
Toi/You, La rencontre, curator: Lisanne Nadeau, Manif d'art 4, Espaces GM, Quebec City (Quebec, Canada).
In the first version of the Madonnas project, I used only one washing machine. It is unusually placed at a distance from the wall, inviting the viewer to walk around it. It stands as if it were a massive chair that was already occupied; indeed, as soon as we start observing the piece of furniture, we find a woman watching us. If the space of the artwork is unoccupied for a while, the portrait seems to be alert, waiting; but as soon as it is approached, it springs to life by making a repetitive head movement. I used a motion sensor to create moments of inactivity and also to provoke a surprised reaction when the washing machine is approached. The "animated" portrait is grafted onto the top of the agitator, which bears a dozen mirrors corresponding to the 12 frames. The animated effect of the portrait is produced directly by the movement of the machine's agitator. The photographic disk that produces the animation of the female face is directly inspired by an "optical toy" called the praxinoscope. The disk, which consists of 12 portraits of the same woman in 12 different positions, is lit like a light box, with the basin of the machine serving as a container for the fluorescent lighting. The pure white light gives a mysterious aura to the machine. The work shows the transformed banal machine without concealing its simplicity. My project seeks to use the washing machine in its entirety and I have modified it as little as possible so that it is instantly recognizable. Our memory is thus shaken by this uncommon recognition. A litany of sounds, created by the machine, accompanies the repeated affirmation, like those banal gestures repeated a thousand times to satisfy the essential needs of the family. Homage and hymn to the work of women all over the world, the Madonnas series evokes both the wastewater of daily life that slips away and disappears, and the waters of motherhood, their loss and erasure after their hidden existence. The work traditionally assigned to women changed with industrialization, but remains just as mind-numbing and poorly paid. This woman's portrait is almost life-size; she acquiesces generously and without letting up.
(see Alison Syme's essay for the exhibition at the Blackwood Gallery: ESSAY What Comes Out in the Wash)