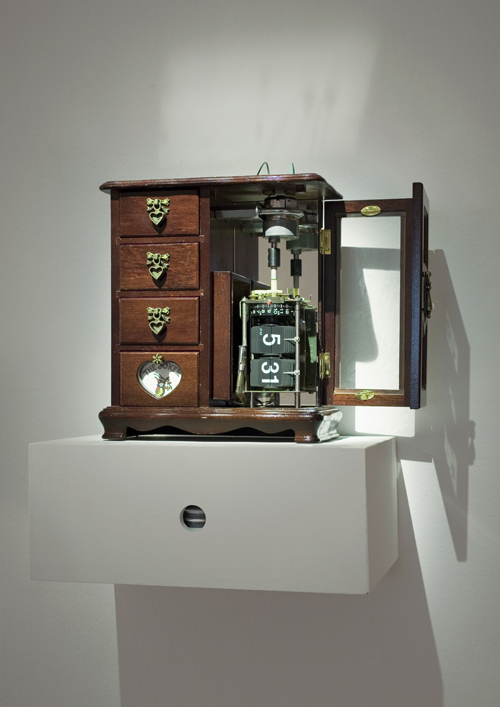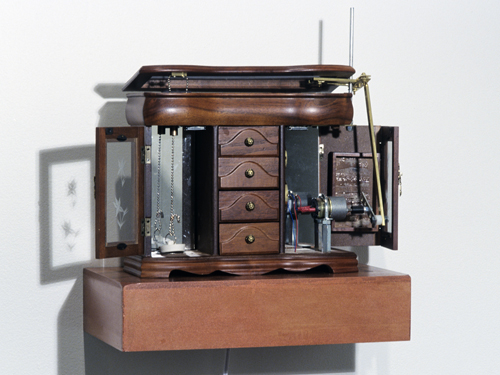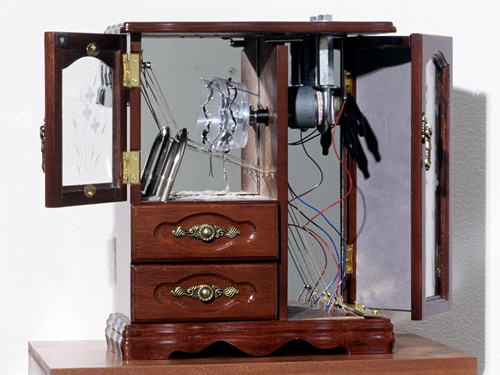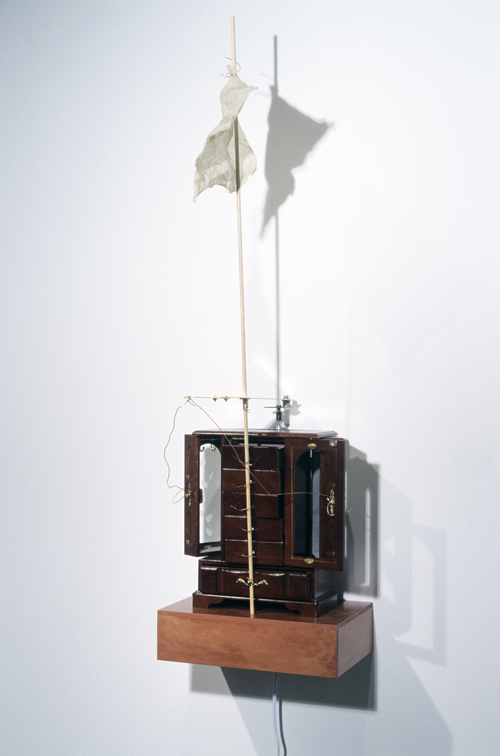 Caravanserail
2004-05
motorized sound sculpture
jewellery box, motors, wood, steel, time switch, motion sensor
dimensions variable
collection: Giverny Capitale (1/4 – Clock)
documentation: – photo & video©Diane Landry 
2013
Diane Landry: by every wind that blows, Curator: Raphaela Platow & Steven Matijcio, Contemporary Arts Center, Lois & Richard Rosenthal Center for Contemporary Art, Cincinnati (Ohio, USA).
2010
The Defibrillators, curator: Eve-Lyne Beaudry, Mount Saint Vincent University Art Gallery, Halifax (Nova Scotia, Canada).
2009
The Defibrillators, curator: Eve-Lyne Beaudry, Agnes Etherington Art Centre, Kingston (Ontario, Canada)
Esplanade Art Gallery, Medicine Hat (Alberta, Canada)
Robert McLaughlin Gallery, Oshawa (Ontario, Canada).
2008
Les défibrillateurs, curator: Eve-Lyne Beaudry, Musée d'art de Joliette, Joliette (Quebec, Canada).
2005
The Murphy and Cadogan Fellowships Award Exhibition, San Francisco Arts Commission Gallery, San Francisco (California, USA).
We Are Not Friends, Thomas Welton Stanford Art Gallery, Stanford (California, USA).
 "The "caravanserai" was historically an ornate, multi-chamber, inn-like setting where traveling caravans would stop for an overnight rest. Reflecting on this increasingly rare, but no less intriguing hub, Landry imagines a motley place animated by the many different people crossing paths. In turn, she views the classic jewelry box as a caravanserai on a miniature scale; a microcosm of the many colors, textures and classes brought together by time and circumstance. This box typically contains treasures of all kinds and from different sources – some precious, some purely sentimental – which mingle, dance and collectively produce the collage of memory. But what is the takeaway, and what is the real treasure? Landry ponders this question through a mechanized jewel box that rapidly spins through numeric clock tiles as the viewer approaches. Rather than gold, silver or gleaming gems, this box suggests that fleeting markers of time are the true objects to be cherished and protected." Steven Matijcio, curator.