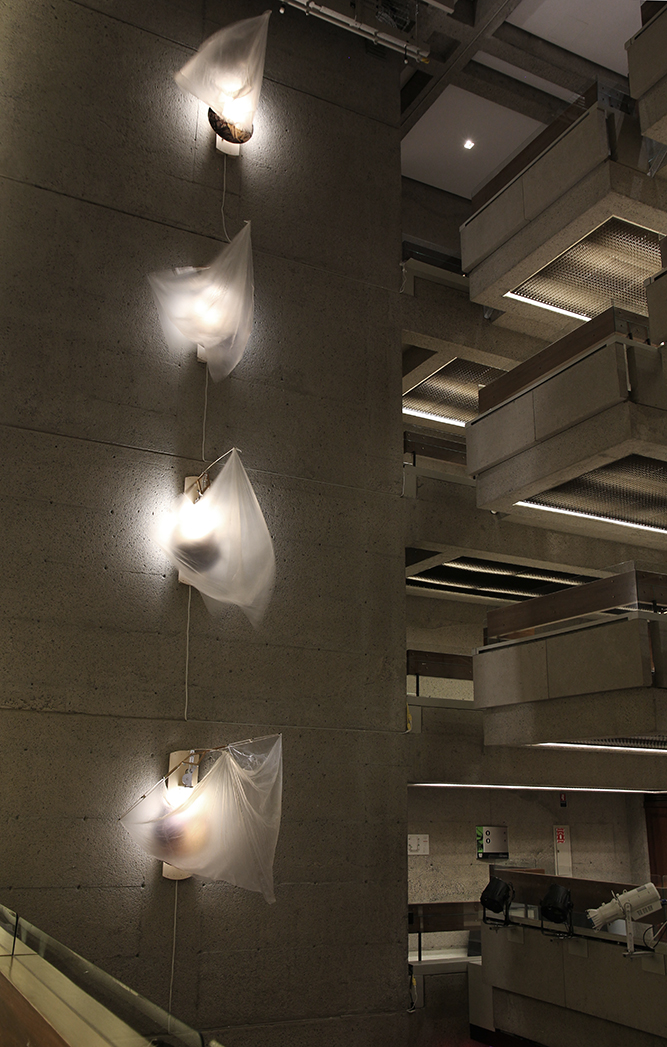 Quatre révolucoeurs
2021
wall sculpture with automation
variable dimension : 50 to 200 cm wide, 150 to 190 cm high, 150 cm deep
Plastic, selected objects, wood, aluminum, disk photo on acrylique, LED lighting,
motor, Arduino control.
Commissioned works from  Grand Théâtre de Québec.
Documentation : - photo©Charles-Frédérick Ouellet & Diane Landry
- video : images©Josiane Roberge, editing©Olivier Bolduc-Coutu,
production©Olivier Bolduc-Coutu & Ariane Plante.
2023
Transparent Foretellings, retrospective exhibition, Curators : Marie J. Jean et Claudine Roger,
VOX, Montreal (Quebec, Canada).
2022
Quatre Révolucoeurs, curator : Ariane Plante,presented to StudioTelus du Grand Théâtre de Québec

, in collaboration with Manif d'art 10 – La biennale de Québec, Quebec City (Quebec, Canada).
Four Revoluhearts is a body of kinetic and light sculptures that evoke an intriguing polysemy arising from their formal and gestural kinship with the animal kingdom, the human body, and the invisible energy of the wind.  Landry's ritualized machines – dancing arms, winged creatures, aquatic beasts, veils wafting through the air – transmute the ordinary into the unreal.
The sculptures, with their opalescent white light, harmonize with the monochrome tones of the concrete space. And yet, the elusiveness and delicacy of the pieces also contrast sharply with the immutable, robust architecture of the setting. Their constant, repetitive, and lively movements echo the words of Claude Péloquin – "Vous êtes pas écœurés de mourir, bande de caves! C'est assez !" (Aren't you idiots sick of dying! That's enough!) – engraved in Jordi Bonet's monumental mural on the southern wall the exhibition space. Synchronous coincidence sets the tempo for the arabesques of Four Revoluhearts, creating a hypnotizing and ethereal choreography that invites viewers into a moment of stillness in suspended space and time.
By offering its performance above this unique space, this work of visual art articulates an inspiring connection with the living arts, to which the Grand Théâtre de Québec is dedicated.
(text : Ariane Plante | Grand Théâtre de Québec)